US Ambassador Berry has a loud and clear message to Nepal: "Be pro-Nepal"
27 Sep 2019
US Ambassador to Nepal, Randy W Berry today suggested Nepal to be pro-Nepal, not pro-America or against any other country.
"We have never asked Nepal to be pro-America. We, of course, welcome the decades-long partnership between the two countries," Ambassador Berry said at an interaction organized by the Institute of Strategic and Socio-Economic Research (ISSR) at the Pavilion Hall in Kathmandu on Friday.
In a loud and clear message to the Nepali people, Ambassador Berry said, "The US has never asked Nepal to be against any other country," adding further, "We ask Nepal to guard its sovereignty fiercely including by strengthening the freedom, the openness, and the security, and allow this region to prosper."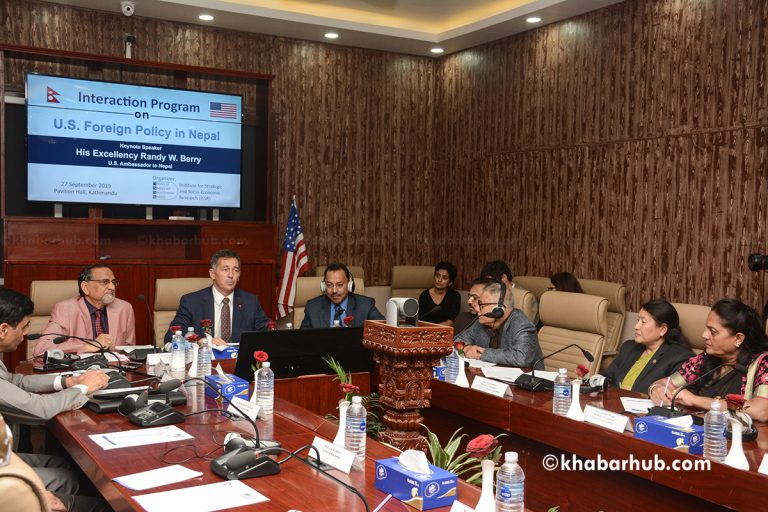 Participants at an interaction program on U.S Foreign Policy in Nepal organized in Kathmandu.
He also clarified that Nepal has also never been asked to join the Indo-Pacific Strategy. "That because there is nothing to join it," Ambassador Berry told the interaction attended by lawmakers, former ambassadors, diplomats, retired army officials, and senior journalists.
If you would like to read the full article published in Khabarhub, please click on the link above.